2017年 11月 02日
It has been a little bit more than one year since I left Brazil to study somewhere else. In this case, Japan. However, due to my summer vacations, I went back home for a month.
When going back home, I got to say I had mixed feelings. What to expect from a routine that is not mine anymore? Especially when I arrived and everybody else was doing something else. That was due to the inconvenience of vacation times that do not coincide.
Despite, I arrived in my city in the best possible moment to travel there. There's a festival every August that colors the city as the clothing of traditional dancer hats. When I was younger I did not care that much about this festival, to be fair. But ever since I started high school, and my school was in the very centre of this festival, I started looking forward to this time of the year.
This is my first experience as an expat. Even though I had some short-term experiences abroad, so far, this is a totally new (and amazing) experience I'm having in Japan. And because now I have this new viewpoint, I was a tourist in my own hometown. Unbelievable, right?
Of course, it is great to see family, old friends, classmates and the such, but it is as my heart is not completely there anymore. Some would say that your heart/soul is split and each little piece of it will remain in the places you went and had good experiences. A part of me is still there. But a part of me also feels I do not quite belong there anymore, maybe that I never belonged so well, maybe that I will never belong completely. Or maybe it is just an impression that I had while traveling half-way through the world to come back to Japan.
Below, there's a photo I took from the August festival. Hope you like it!

Fernando (Brazil)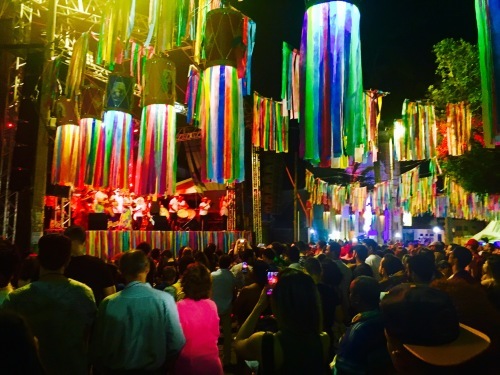 # by chitchatcafe | 2017-11-02 17:27 | カフェ 英会話 札幌