2018年 04月 14日
Hello guys! I haven't been in Sapporo lately, so those who regularly drop by Chit Chat Café probably have not seen me. I recently got back from working in Hakuba, Nagano Prefecture in a ski resort. I also went and worked there last year. This year was actually my fourth season working in a Japanese ski resort! While travelling through Japan on a working holiday visa I was able to work two winter seasons.
I flew back to Sapporo on the 28th of March from Hakuba but after spending less than a week in Sapporo I decided to enjoy my spring holidays just a little more. Many of my new friends from Hakuba were in Tokyo after the ski resort closed for the year so I wanted to go hang out with them a little more before university started again.
A spontaneous flight to Tokyo is expensive however! Almost 10 000 yen even for JetStar! And I wasn't enthusiastic about going through the annoying airport security procedures yet again in the same week. So rather than sacrifice my hard earned money on a flight I resolved to have an adventure to get to Tokyo instead.
In Hakuba I challenged myself to learn how to ski. I can snowboard, but never had I tried to ski. Trying something new was enthralling and a lot of fun (but pretty painful when I crashed all the time). But it was a great experience.
So I decided my next challenge: To hitchhike from Sapporo to Tokyo to see my friends.
Was it easy? No. But was it worth it, definitely yes!
I made it from Sapporo city to Tokyo in three days. I rode with approximately ten different people for the duration of my travels, my average travel with each ride was two hours. I had an enjoyable hour with a family and their two dogs who sat on my lap and kissed my face.
However, my first night I found myself stranded in the tiny town of Date in Hokkaido. Fortunately I had two offers by kind families to stay with them the night. In the end I stayed with an elderly man and his cat with a stub for a tail.
My second night I stayed in an Internet café in Aomori city after riding the ferry from Hakodate ferry terminal where the elderly man dropped me off. Waving goodbye to him I had tears in my eyes as he hesitated looking outside his car window in the rain. We had talked for hours on end about many things, about his crazy childhood and the way he moved around for work. Yet I will probably never meet him again. In Japanese you would call this kind of meeting 「一期一会」which in English could translate to "once in a life time meeting." Yet in the end I had hadn't even spent an entire day with him.
From Aomori it was straight to Tokyo, a distance over 700km and 9 hours of driving according to Google sensei. In one day I passed through Aomori to Akita then Iwate, Miyagi, Fukushima, Tochigi and Saitama prefectures before reaching Tokyo.
Jessica (Australia)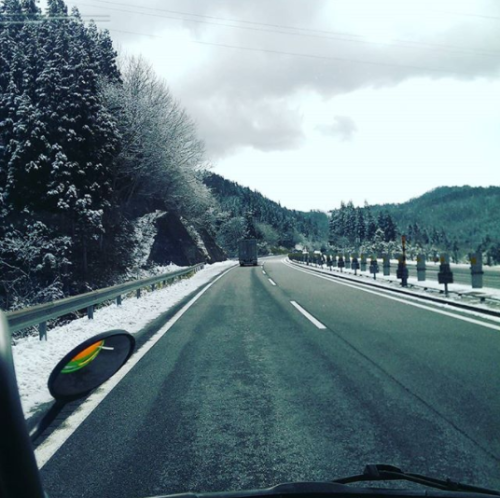 # by chitchatcafe | 2018-04-14 15:45 | 札幌 英会話 国際