Christmas Eve 2016
2017年 01月 11日
Happy New Year, everyone! In this blog entry, I would like to write about my first Christmas Eve in Japan.
I have only resided in Japan for a little more than 3 months, but I have been fortunate enough to experience so many novel things in my life. I have seen snow before, but only in Sapporo have I ever witnessed such a great amount of snowfall. When I opened my room's window in the morning and saw the thick snow on the street, it was such a miracle!
In my opinion, Christmas Eve 2016 was the first time that I have ever properly celebrated the coming of Christmas. In Vietnam, the country where I am from, Christmas is an occasion to go shopping, or hang out on the street with friends and lovers. However, typically, we almost never stay home and have dinner with our family during Christmas Eve.
This time in Japan, I celebrated Christmas Eve by enjoying a lovely warm dinner with my classmates from university, with the thick cold snow laying outside. Some of us prepared the main dishes, while others brought snacks and drinks. It was probably the best dinner that I have had in Japan so far. After the meal, we played card games, danced to music, and chitchatted until late.
On the way back together, we had plenty of fun throwing snowballs to each other. Prior to this, I could only read about this fun activity in Manga, so I was very delighted to try out the actual snowball-throwing game. Everyone was laughing so hard. It was such a heart-warming time amid the chilly Sapporo winter night.
Hoang (Vietnam)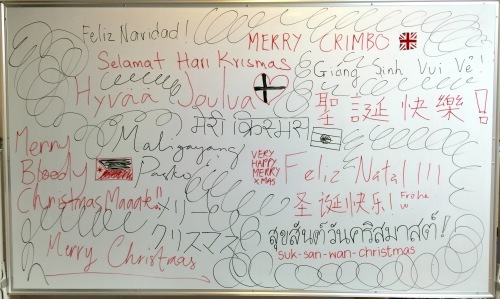 by chitchatcafe | 2017-01-11 17:10 | 英会話 教師 札幌