2017年 03月 11日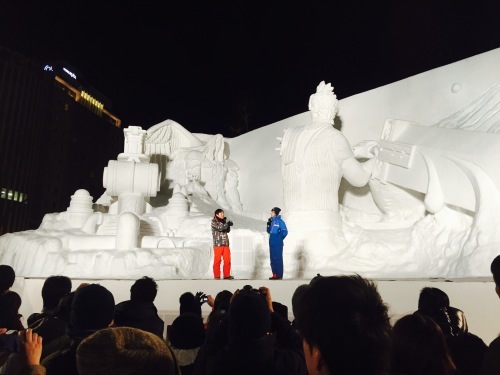 Before coming to Sapporo, I have never lived in a place with so much snow before. In October 2016, when I opened the window and saw tons of snow on the street for the first time, I was filled with joy and literally had to run downstairs to play in the snow around my dormitory.
In February 2017, I joined an event to build a snow sculpture for the Yuki Matsuri, and had a really happy day at Odori Park. It was really amazing that they could create such huge and magnificent snow sculptures with intricate details. The festival was absolutely wonderful, and attracted so many foreign visitors to the city. It was also very fortunate that they celebrated the 30 years of Final Fantasy 7 with a big sculpture of the two famous characters of this legendary Japanese game, and I had the opportunity to be in Sapporo to witness it.
In March 2017, I went skiing for the first time in a Cross Country Skiing event, and it was one of the most memorable days of my life. I did not expect skiing to be so much fun, and tiring at the same time. It was such an enjoyable workout and I kept smiling no matter how many times I fell. I was utterly joyful when I could finally ski down slopes well after some practice. Cross Country Skiing has become the newest entry on my list of favourite sports. I am very glad to be living in Sapporo, the city with beautiful white snow.
Hoang (Vietnam)
# by chitchatcafe | 2017-03-11 14:16 | 英会話 教師 札幌 | Trackback | Comments(0)